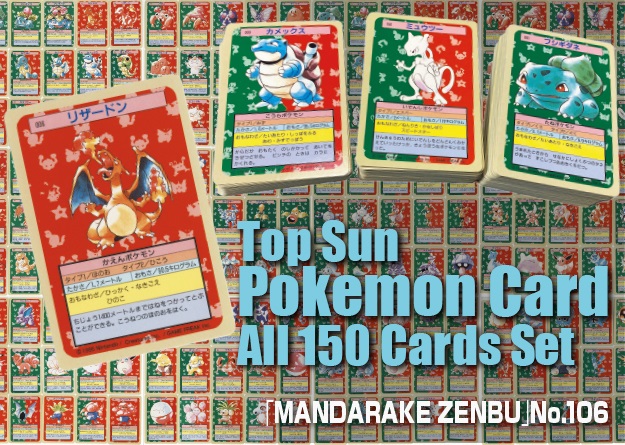 MANDARAKE ZENBU 106
Price 1000 yen (909 yen plus tax)
452 pages (planned)
Published by Mandarake
A one year subscription is 6 editions for 6000 yen, and includes a 1000 yen coupon.
Alternatively, you can contact us via the phone number below. (Japanese)
When the voice guidance begins, press 5 then 3.
For Big Auction inquiries please contact the Editorial Department.
Tel: 03-3228-0007
Q - Can I pay in dollars / euros / pounds?

A - Sorry, all payments must be made in yen.

Q - Is the catalog available in any other languages?

A - The physical copy of the catalog is in Japanese only (although there is a small section on the bidding process that is written in English). An English translation for some of the popular items is provided on the left of the main Zenbu page, as well some as important information about them. Click the pictures for more details.

Q - I want to get the catalog as soon as possible. Which store should I go to?

A - Our Nakano store usually gets the catalog a few days before its scheduled release date, so please contact the store directly. Other Mandarake stores receive their copies afterward. Regular bookstores in Japan release their copies on the 10th every other month (February, April, June, August, October, December), but this may vary depending on the store and region.
More FAQs ...
● Feature: Race Cars


We are featuring a collection of Tinplate Toy Cars this time around.
Race cars were the fascination of children, and everyone has a memory of playing with race cars.
From the special ones you've never seen before; to the ones that make you nostalgic for the ones you used to have, you can almost hear them running across the page with engine sounds, mystery runs, and friction.
We also have plastic models, die-cast, daily necessities, stationery, and many other items from Anime such as Mach Five, The Circuit Wolf, Machine Hayabusa, Arrow Emblem: Hawk of the Grand Prix, and other hotly contested works.


● Anime Celluloid and Anime Key Frames


Rumiko's works, Sailor Moon, Eva, and Dragon Ball!
The 30th anniversary of the release of "Porco Rosso" is approaching! Mononoke, Laputa, and other Ghibli work in the assortment!

● Animation Settings and Storyboards


The Special feature for the Animations Setting and Storyboards section is the Gundam series, which has gained momentum with the latest hit Movie "Hathaway's Flash"!
In addition to the 1st Gundam settings and G-Record storyboards by director Tomino himself, which come with the movie's project proposal worth reading, there are also storyboards available for, ∀, UC, W, and some more!
We also have Fate/Zero, SAO, Hayao Miyazaki's works, and much more in the lineup!


● Autograph illustrations, colored papers, and manuscripts


In addition to legendary artists such as Osamu Tezuka, Fujiko Fujio, Fujio Akatsuka, Leiji Matsumoto, Shinji Nagashima, we also have artists from Shounen and Shoujo novels, as well as artists related to animation in the lineup. You can feel the charm of their unique works just by looking at them.
There will also be affordable autographed books available for purchase.

● Books


Special issue on War History Manga.
Exhibits include all volumes of one of the Notable works in War History Manga, Shigeru Mizuki's "Shonen Senki," and much other Manga depicting the Pacific War.
Special exhibits include works depicting the atomic and hydrogen bombs.


● New books


Feature on racing manga and Wanpakku Comics, the pioneer of game strategy manga, including "Essential Victory Techniques: Complete Edition."

● Vintage Comic Magazine Race Car Special


The era of the Supercar.
We introduce you to monthly magazines such as "Shounen," "Shounen Book," and "Boukenoh." Did you know? The first issue of "Jump" had a race car on the cover!
The third (and final) installment of our horror magazine special features "House of Horror Deluxe" and "Halloween Special Edition Nemuki."


● Vintage Comics Appendix


"Emonogatari," Pioneer [Yamakawa Soji]
His only apprentice [Abe Kazusuke].
The other hero of "Emonogatari" [Shigeru Komatsusaki].
Also featuring Takeo Nagamatsu, Tomohiko Oka, Tatsuo Yoshida, and others.
We are featuring an impressive lineup of "Emonogatari," establishing an era.


● Doujinshi


"Women's Fighting Doujinshi" (Aimed towards male)
A collection of doujinshi featuring women's pro-wrestling games, focusing on the still-popular "Wrestle Angels" series.
Feature on "Arina Tanemura and Sailor Moon," "Kansai & Nagoya Original Doujinshi" feature, "PUFF," the pioneer of monster doujinshi, and many other doujinshi materials.

● Cards


Pokémon "Top Sun Gum Cards" completed set, including rare prism stickers.
Unopened starter packs of early Pokémon cards.
Overseas Pokémon card complete sets.
Yu-Gi-Oh! BANDAI Version, Toei Version Yu-Gi-Oh! Cardass Lottery Prize "Mirror Force"
Magazine prize cards (books, QUO), on Anime Girls, etc.

● Doll


Reproduction of the first generation Rika-chan
In this issue, we are featuring Replica Rika-chan," which was sold only at Rika-chan Club 67 and other limited stores in the early 2000s, as well as "Rika-chan with Tan Skin Reprint" and "Rika-chan Castle.

● Voice actors


From young voice actors who are just starting, popular voice actors who are in season, to famous voice actors and popular VTubers Autographed goods available!

● Car Goods


Slot Racing Car featurette such as Imai's slot racing series and the oddball Aihara Model "Honda F-1 '67 Italian Grand Prix Winner".

● Records and Cassettes


Behind every great game, there is a great song. We will be exhibiting a collection of game music from the Showa era, spanning arcade, consumer, and PC games.

● Railroad Goods


Roll signs. When you ride a train, the roll sign is always a guide to your destination. There is a starting station and an ending station. Have you ever stopped and wondered about just how many destinations there are? It's fun to look at the spinning directional signs and wonder, "Is this where I'm going?" One of the astonishing things about trains is discovering new destinations on the roll sign. Nowadays, with LED indicators, the train destinations appear and disappear in a flash... I won't let you feel bored like that this time!

● Movie and Anime Posters


"Gappa: The Triphibian Monster" "Toei Manga Festival" "Lupin the Third" by Kosei Otsuka
A wide variety of Tokusatsu and animation works!

● Kaiba, Other Books


We are featuring products handled at Mandarake's Kaiba stores, located at Nakano, Shibuya, Sapporo, Grand Chaos, and Fukuoka. It consists of autographed photo books of literature, autographed photos of celebrity idols, photo books, art books, picture books, illustrations, luxury books, limited edition books, literary books, research, and documents.

● Articles


The Complete Book of Kashihon, "Gomi no Toride" Article
Popular serialized articles by Masasuke Naruse and Hidetoshi Mori, "Enchanted by Kashihon novels."
Shinzo Takano's series "Old Bookshelf - That Book, This Book" is about a book on his bookshelf.
Familiar musician Hiroshi Aoshima's essay "Shoujo manga symphonic poem."
Suzuki Toshihisa's manga "Digging up the Showa manga chronicles the establishment of medical comics (the first year of "Black Jack").
In the "Anime Interview," Makoto Hoshi interviews Shigeo Tsubota, producer of Movie International Co.Ltd, reveals some stories told nowhere else.
The magazine is also composed of other serialized articles.
With photos and detailed data on the products listed on the left, commentary by Mandarake staff, and comments on the products, the pages are well worth reading.