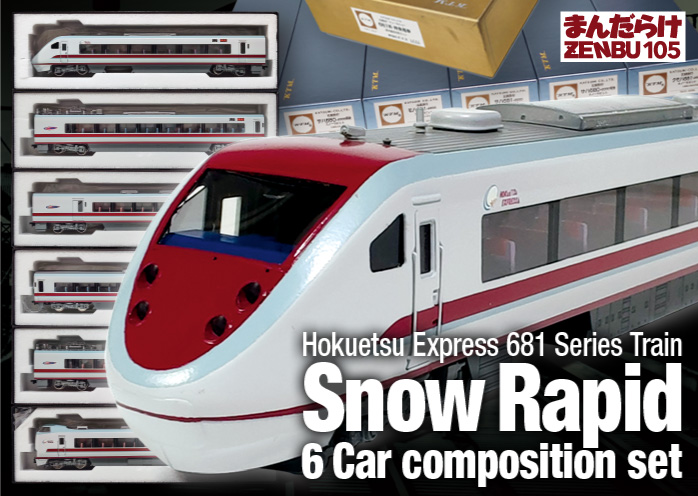 MANDARAKE ZENBU 105
Price 1000 yen (909 yen plus tax)
716 pages (planned)
Published by Mandarake
A one year subscription is 6 editions for 6000 yen, and includes a 1000 yen coupon.
Alternatively, you can contact us via the phone number below. (Japanese)
When the voice guidance begins, press 5 then 3.
For Big Auction inquiries please contact the Editorial Department.
Tel: 03-3228-0007
Q - Can I pay in dollars / euros / pounds?

A - Sorry, all payments must be made in yen.

Q - Is the catalog available in any other languages?

A - The physical copy of the catalog is in Japanese only (although there is a small section on the bidding process that is written in English). An English translation for some of the popular items is provided on the left of the main Zenbu page, as well some as important information about them. Click the pictures for more details.

Q - I want to get the catalog as soon as possible. Which store should I go to?

A - Our Nakano store usually gets the catalog a few days before its scheduled release date, so please contact the store directly. Other Mandarake stores receive their copies afterward. Regular bookstores in Japan release their copies on the 10th every other month (February, April, June, August, October, December), but this may vary depending on the store and region.
More FAQs ...
●Feature: Fire Engine & Ambulance


This is a collection of firefighting and emergency vehicles, mainly made of tinplate. The ladder truck has a gimmick of extending ladder, electric action, friction, siren sound, lights, remote control, etc. Many of them come with their boxes, please enjoy the charm of each box art.

●Robot Soft Vinyl


Special issue of soft vinyl robot, featuring over 45 types of variety. In this collection, you can enjoy all sorts of nostalgic items or some that you've never seen before. There are also many precious unopened items.

●Rabbit TOY


A variety of heartwarming items are available, including tin toys that skillfully express the movements of rabbits using a spring or electric motor, and toys with fluffy fur wrapped in raised fabric. It will bring back memories of playing with them in the past.

●Anime Celluloid and Original Animation Drawings


From Ashita no Joe, Dororo,
Evangelion, Pokémon, Slam Dunk, and more!
A great mix of old and new!
We've also got Ghibli-style goods like Nausicaa, Totoro, Laputa, and Kiki`s delivery service!

●Animation settings and storyboards


Jump's works, Fate, Pretty Cure, Love Live! Sunshine!, CC Sakura, and many other popular works!

●Autograph illustrations, colored papers, and manuscripts


The magazine is filled with popular authors such as Osamu Tezuka, Fujiko Fujio, Fujio Akatsuka, Leiji Matsumoto, Shigeru Mizuki, Kazuo Umezu, and many others, as well as shonen and shoujo authors, anime-related authors, and many others. We also have many other affordable autographed books available for purchase.

●Booklet


A selection of 50 interesting Kashihon comic books. In the first issue, 50 B6 booklets are introduced.

●Paperback Comics


Wakaki Shobo Junior Teen Comics, including Yoko Imamura, Satoo Tomari, and Kazunori Yamato.

●Vintage Comic Magazines featuring Shinji Mizushima


A great introduction to the exceptional magazines that convey the charm of Shinji Mizushima in all directions!
The special features include "Ikkyu Irukama," "Mizushima Shinji Baseball Romance," "Dokkan V," and the special souvenir set "Manga Giants!
Horror Magazine Special Vol. 2 Featuring:
"Kyoufu no Yakata Deluxe" and "Halloween Monthly"

●Vintage comic book appendix


Makoto Takahashi, Miyako Maki, Masako Watanabe, Eiko Mizuno, etc.
The age of comic book appendixes.
Beautiful girl magazine separate volume appendices.

●Doujinshi


Special feature on Potote Sarada and Doujin Circle posters
Women's Doujinshi magazine: "Shonen Gangan" featuring Miyuki Yoma
Shoujo Magazine Manga School Booklet Special
Other Doujinshi magazines of toy and robot animation materials, etc.

●Card


Amada Dragon Ball Memorial Card with PP Card Mount (No.889/No.890), etc.
Dragon Ball Card Special
The first Pokémon cards, rare "King of Beetle MUSHIKING" cards
King Harima Sticker Vol. 3, and many other valuable items!

●Doll


Vintage Barbie Costume
Japanese variant version of the costume.

●Voice actors


From young voice actors; who are just starting out, popular voice actors; who are in season, to famous voice actors, and popular VTubers
Autographed goods available!

●Car Goods


Special feature on unique fire trucks and ambulances from Tomica, Tomica Dandy, Dinky and Corgi.

●Records and Cassettes


From the TV anime specials that have been remarkably reevaluated, "The Dark Lord: Dracula the Vampire (Yami no Teiou Kyuuketuki Dracula) Original Soundtrack" "Lupin vs. Sherlock Holmes Soundtrack" "The Legend of Terror: Frankenstein (Kyoufu Densetsu: Kaiki! Frankenstein) Theme Music Collection", etc.

●Railroad Goods


A special feature on Model Trains. Famous cars from Katsumi, NISSHA Yume Kobo, Endo, and Nakamura Seimitsu.

●Movie and Anime Posters


Special feature on "Otoko wa Tsuraiyo" posters
"Daigorou vs. Goliath," "Godzilla vs. Gigan," and other tokusatsu posters!

●Kaiba, Other Books


Consists of art, photo books, picture books, illustrated books, luxury books, limited edition books, literary books, research books, documents, and other products sold at Mandarake's Kaiba stores (Nakano, Shibuya, Sapporo, Grand Chaos, Fukuoka). The special feature is on Gokotsu Miyatake, a punk journalist born in the Meiji era. He has published more than 100 publications himself. His vitality is unparalleled and interesting. Here we will showcase a selection of some of his publications.

●Articles


The Complete Book of Kashihon, "Gomi no Toride" Article
Popular serialized articles by Masasuke Naruse and Hidetoshi Mori, "Enchanted by Kashihon novels". Shinzo Takano's series "Old Bookshelf - That Book, This Book" is about a book on his bookshelf. The essay "Shoujo manga symphonic poem" by Hiroshi Aoshima, a well-known musician on TV. Suzuki Toshihisa's manga "Digging up the Showa manga chronicles" is the birth of medical comics. In the "Anime Interview" section, Makoto Hoshi interviews Akira Shinoda, who has been involved in a number of works and talks about all sorts of things through his work. The magazine is also composed of other serialized articles. The magazine is filled with photos, detailed data, commentary by Mandarake staff, and comments on the products listed on the left, making it a great read.