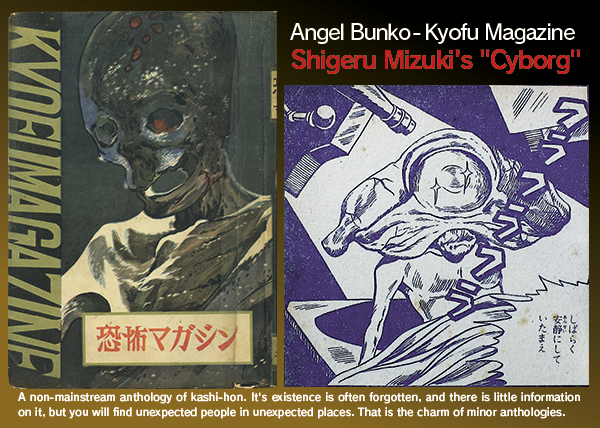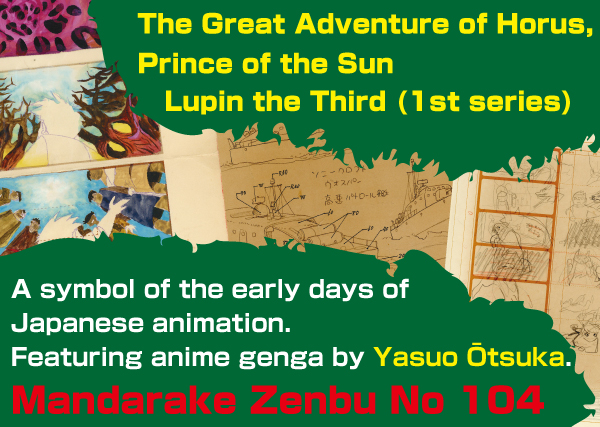 MANDARAKE ZENBU 104
Price 1000 yen (909 yen plus tax)
716 pages (planned)
Published by Mandarake
A one year subscription is 6 editions for 6000 yen, and includes a 1000 yen coupon.
Alternatively, you can contact us via the phone number below. (Japanese)
When the voice guidance begins, press 5 then 3.
For Big Auction inquiries please contact the Editorial Department.
Tel: 03-3228-0007
Q - Can I pay in dollars / euros / pounds?

A - Sorry, all payments must be made in yen.

Q - Is the catalog available in any other languages?

A - The physical copy of the catalog is in Japanese only (although there is a small section on the bidding process that is written in English). An English translation for some of the popular items is provided on the left of the main Zenbu page, as well some as important information about them. Click the pictures for more details.

Q - I want to get the catalog as soon as possible. Which store should I go to?

A - Our Nakano store usually gets the catalog a few days before its scheduled release date, so please contact the store directly. Other Mandarake stores receive their copies afterward. Regular bookstores in Japan release their copies on the 10th every other month (February, April, June, August, October, December), but this may vary depending on the store and region.
More FAQs ...
● Special Feature - Perman


A special feature on Takaraya's Perman soft vinyl series, as well as other amazing items such as the electric walking tin Perman, Perman shop display jumbo bobblehead, flying tin Perman, and Perman train. In addition, there are a variety of other goods, such as daily necessities, stationery, posters, and nostalgic items. There are also early Perman design books and supplements.

● International Microman and Mashinrobo


An absolutely huge special feature of the Microman Machine Robot, which gained popularity all over the world.

● Animation Cels and Anime Gengas


In the Celluloid and Animation Drawings section, we are featuring anime director Yasuo Otsuka, who has worked on many masterpieces!
There's also a large number of works including Ghibli, Evangelion, Cardcaptor Sakura, and other popular works!

● Hand-drawn Illustrations, Shikishi and Manuscripts


The magazine features popular authors such as Osamu Tezuka, Shotaro Ishimori, Rumiko Takahashi, Leiji Matsumoto, Shigeru Mizuki and Monkey Punch, as well as shonen and shoujo artists, and other desirable anime items. We also have a selection of other affordable signed books.

● Tankobon (Single Volume Books)


A large number of anthologies from the 1950s, the heyday of kashi-hon manga. There is a large number of non-mainstream minor anthologies.

● New Size Books


Special feature on Fujiko Fujio Comics with a focus on Perman. Also, the second special feature on the early days of Sun Comics.

● Vintage Comic Supplements


Separate Manga Appendix: The Age of One-of-a-Kind Luxury.
Osamu Tezuka, Ichio Matsushita, Katsumi Masuko, Noboru Baba, Souji Ushio (Tomio Sagisu), and others.
An introduction to luxurious B6 supplements with covers.
Supplement set festival with the full 37 volume set of Daruma-kun!

● Doujinshi


Fujiko Fujio Doujinshi Special Feature!
A lot of erotic parody doujinshi as well as reference doujinshi. There is also an exhibition of the original manuscripts of the major genre "Sumire Club"!
Female Doujinshi: Slam Dunk Parody Doujinshi (Sen x Ru) Special Feature
Gakuen Manga Kenkyuubu no Hana "Yahharu-" Special Feature
Popular artists from Tokyo Woman's Christian University Comic Club such as Kumi Morikawa and Ichiko Ima.

● Cards


Yu-Gi-Oh! Cards - V Jump Festa 1999 Visitor Card "Blue-Eyes White Dragon".
Other promo cards.
Pokemon Cards - Best Photo Contest winning card "Articuno".
Other special boxes and sets.
Vintage Cards
Thunder Mask and Ijiwaru Kobanashi "Coconut Pretzels Card".
Izumi Senbei Honpo "Barom-1 card" - thicker than the regular card.
Other Perman cards etc.

● Dolls


Tari Nakagawa Art Doll Special Feature
Studied under Ryo Yoshida at the Pygmalion doll school. One of the leading artists of ball jointed dolls in Japan.

● Voice Actor Goods


From young voice actors who are just starting out, popular voice actors of the moment to big name voice actors.
There are signed goods!

● Vehicle Goods


The Skyline is the ridge line that separates the mountains from the blue sky, and when asked which car has been the most popular with the Japanese people, many people will say the Skyline, with the GT-R at the top of the list, the four round tail lights and the inline six-cylinder engine being the icons. With each model change, a new name was added to the car, creating a new era. Even the palm-sized miniature cars and the pictures on the plastic model boxes have a soul of their own. The Skyline has been loved for more than 60 years since its creation.

● Records and Cassettes


Perman record special feature, Asahi Sonorama, Toshiba Records, Nippon Columbia, Keibunsha

● Railway Goods


Railway pamphlet special feature. In the fast-growing railway industry, new rolling stock became the face of each railway company and helped to enhance its image. In those days, when there was no internet access, companies tried to communicate their products in detail with photographs and drawings. The latest information from those days is now a thing of the past, so please take a look at these valuable documents that unravel the process.

● Movie and Anime Posters


Toei Movies and Leiji Matsumoto Special Feature
"Adieu, Galaxy Express 999", "Space Battleship Yamato (Uchu Senkan Yamato)", "Queen Millennia"
"Natsume's Book of Friends", "Tenki no Ko" and other posters and large scale banners!

● Kaiba and Other Books


Art, photo collections, picture books, illustrated references, luxurious books, limited edition books, literature, research, reference materials. Items from Mandarake's Kaiba departments (Nakano, Shibuya, Sapporo, Grandchaos, Fukuoka). Part 3 of our special feature on young shojo world reading books. The highlight of this special feature is the pretty covers and illustrations of girls drawn by popular artists such as Milano Fujita and Chiaki Fujii. Please take this opportunity to check them out.