Items for Sale at the Festival
Location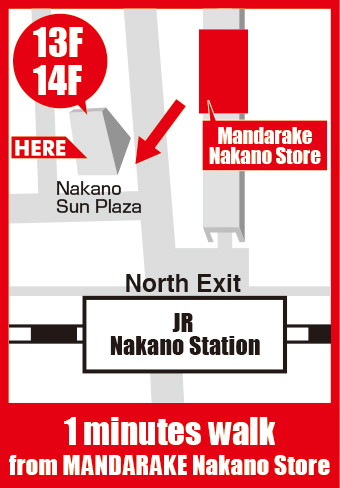 What floor will the event be on?

This year's Daimansai Festival will take place on the 13th floor (in the Cosmo Room and the Sky Room) and the 14th floor (in the Crescent Room) of the Nakano Sun Plaza.

What time will the venue open?

It will open everyday from 11:00 am.

How should I line up to get into the venue?

On each day of the event, there may be a different line for the items you wish to buy.Please
click here for more details.

Can I use a credit card?

Yes, you can.

Is there somewhere to store my baggage?

For large pieces of baggage please use the cloak room on the 14th floor.

Will there be somewhere to purchase refreshments?

There is a drinks bar on the 14th floor.

Can I check the condition of the sale items available (items in the For Sale At The Festival section of this website)

Yes you can. Please be aware that you may not be able to check inside some items that are unopened.
Please ask a member of staff.

Can I smoke?

Yes, you can. There is a smoking corner in the lobby.

I want to bid on something in the Big Auction. How can I do this?

Information on how to join the Big Auction can be found here.