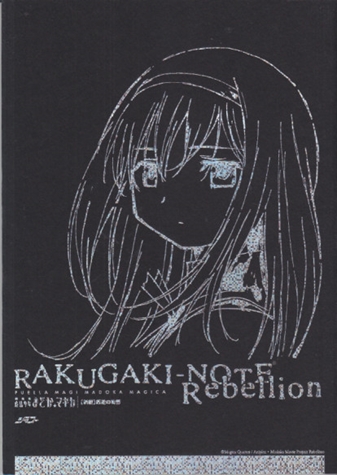 Puella Magi Madoka Magica        it is group efforts book by staff.

Akiyuki Shinbo Mr. Voice actor from their manager, such as animation staff, etc.

More than 60 people of the staff are participating.

Madoka is a book full of love.
Title RAKUGAKI-NOTE Rebellion

Circle Shaft

Writer Akiyuki Shinbo, Ume Aoki, other

Issue Date August 15, 2014

Size A4

Page number 69 page

Genre Puella Magi Madoka Magica       

Condition: Normal.
We have plenty of other doujinshi from large and small creators.

Come and check them out at the Daimansai Festival!
[Daimansai Festival announcement site is here ]

[MANDARAKE Male Doujinshi purchase strengthening information here ]
Post by: Shinaki
Translation is done by machine translator.