On Friday May 5th, the third day of the Daimansai Festival, not only will we have hard to find costumes that are no longer being produced, but also both the latest costumes for popular female characters from COSPA, COSPAITO, KISS and ACOS at the Cosplay Booth!

Here's an introduction to the kind of item you'll be able to find.

This time we're introducing ACOS's "Girls und Panzer Oarai Prefectural Girls High School  Uniform ".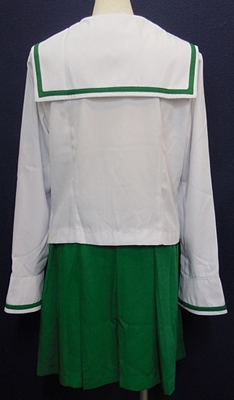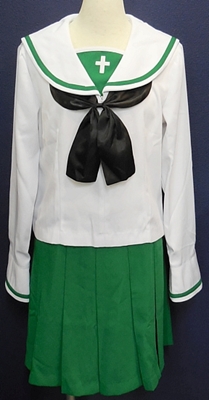 "Girls und Panzer Oarai Prefectural Girls High School  Uniform"

Made by ACOS

Women's XL Size

Dirt ・ fluffing
[Set contents]

Jacket ・ skirt ・ ribbon
※ because of different When and How to Buy depending on the product, please Reference the [When and How to Buy] below.

Please check ※ With regard to the price on the day at the venue.
In addition I am pleased to introduce the costumes, to anime costumes, such as School Uniform and Moon of beauty Girl game system, offers for this day the number of the destination place than ever before.

The same day, we send the COSPA ・ Made by COSPATIO costumes even in a large auction tournament to be held at the Nakano Sun Plaza 13F Sky.

May 5 (Friday), I am waiting at the held 's " Daimansai Festival "at Nakano Sun Plaza.
***********************

[When and How to Buy]
Sale Location: Nakano Sun Plaza – 14th floor – Crescent Room

Venue Open: 11:00 am

Sales Begin: 12:00 pm
Customers who wish to check the condition of items will be able to do so after entering the venue up until 11:55 am.

Sales will commence from 12:00 pm.

From 12pm we will ask if any customers are interested in the items one-by-one.

Please be aware that if you miss the item you are interested in, you might not be able to participate in the purchase event.
If no customers are interested in an item, we will move onto the next one.

If only one customer is interested in an item, they can purchase it normally.

If more than one customer is interested in an item, it will be sold in an auction style.
● As cancellations, exchanges and returns will not be accepted, please check the condition of any items you are interested before 11:55 am.

Once you have decided you want to and have committed to purchasing it either by:

・Being the only person who wants to by it.

・Having the largest bid in the auction for it.

you will not be able to cancel, exchange or return the item.

● If you are committed to purchasing an item, please make your payment immediately.

If there are remaining items that you would like to buy, please stay as you are and pay for everything once all of the items you're interested in have finished.
● Should the item be settled by auction, please be aware that auction bids do not contain consumption tax of 8%.

Consumption tax must be paid by the highest bidder.

● For items that do not initially sell at the 12:00 pm purchase event (where nobody expressed an interest in them), these may still be sold on the day. Please ask our staff if they are still available and you will be able to buy them.

Please also pay for these items straight away.
※ We will be issuing information about tickets to the venue at a later date, so please check back.
(Post by: Momose)
Translation is done by machine translator.