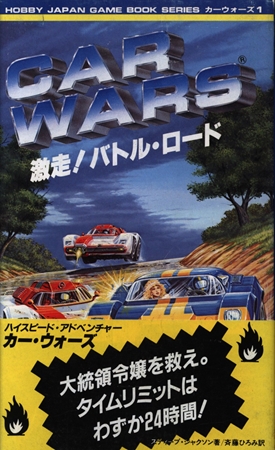 Available on day 1 of the Daimansai Festival, May 3 (Wednesday)!

We have lots of analog games available!

This time is Game Book version " CARWARS "Complete 3 Piece Set.

" CARWARS "is " GURPS" in Steve ・ Jackson worked game of the famous America, In a nutshell " Mad Max "specific Kabatoru thing.

Board game version is also quite a number were sold in Japan, but Game Book has been also published three books.

The was this time offer is intended with obi, but there is a stain on the stains and sticker peeling marks, 2 Volume in Volume 1, has become a thing of the Overall clean condition.

In the title I do not see very much be a single winding, stock in set is the first title.

How will by all means try in addition to the collection of you on this occasion?
We offer a variety of Analog Games to In Other. Other information of the goods of here.
Post by: Kuroda
Translation is done by machine translator.