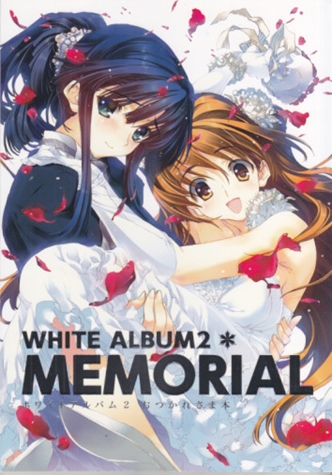 The staff of WHITE ALBUM2 cheers for good work is a book.

Takeshi Nakamura, Satoru Fujimoto, etc., it is a book that summarized as one page at a time group efforts in the center of the drawing members.

It is interesting place for fans of maltodextrin Fumiaki are talking about at that time production.

Clear File you are with.
Title WHITE ALBUM2 with MEMORIAL Clear File

Circle Aquaplus

Writer Takeshi Nakamura, Satoru Fujimoto, other

Issue Date August 15, 2014

Size B5

Page number 74 page

Genre WHITE ALBUM2

condition Clear File Small damaged.
We have plenty of other doujinshi from large and small creators.

Come and check them out at the Daimansai Festival!
[Daimansai Festival announcement site is here ]

[MANDARAKE Male Doujinshi purchase strengthening information here ]
Post by: Shinaki
Translation is done by machine translator.